Published :

2018-07-19T03:45:57Z

6 min read
68 Unique views
Report this story

Copy link to this story
---
Indonesia boasts a wide variety of flora and fauna but many are endangered because of habitat loss and the illegal wildlife trade, human contact also presents a threat to the animals.
People gather on July 14 around a mound of dead crocodiles in Sorong, West Papua. Local residents reportedly killed the animals at a crocodile farm, allegedly to avenge a local man who was killed by a crocodile. (Antara/Olha Mulalinda) (Antara/Olha Mulalinda)
Considered one of the richest countries in the world in terms of its biodiversity, Indonesia boasts a wide variety of flora and fauna. Many are endangered, including the Sumatran tiger, the Javan rhinoceros, Sumatran elephant and three orangutan species, one of which was discovered only in 2017. Aside from habitat loss and the illegal wildlife trade, human contact also presents a threat to the animals.
While the slaughter of 292 crocodiles in Sorong, Papua, made headlines across the world, this was not an isolated incident.
Here is a list of seven human-wildlife conflicts since January:
1. Orangutan shot 130 times, 'tortured'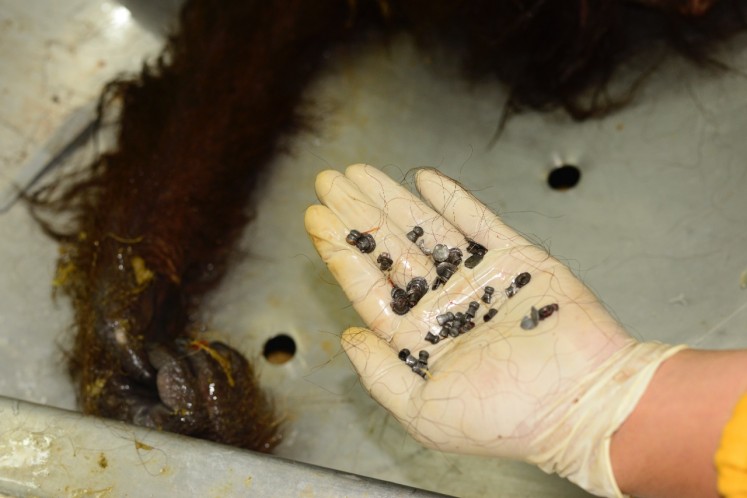 An officer shows airsoft gun pellets retrieved during the Feb. 6 autopsy of an orangutan in East Kalimantan. (Courtesy of the Centre for Orangutan Protection/File)
An orangutan was found in a critical condition with 130 pellets in its body on Sunday, Feb. 4, in Teluk Pandan village in East Kutai regency, East Kalimantan. The Centre for Orangutan Protection (COP) spokesperson Ramadhani said this was the largest number of pellets ever found in an orangutan shooting.
Doctors at the hospital where it was taken found dozens of old and new wounds from an airsoft gun all over the great ape's body, 74 in his head. They also found 19 fresh stab wounds, and the orangutan's left foot had been cut off. After a 12-hour surgery, the endangered animal succumbed to his wounds. An autopsy later found that he had been injured on several different occasions.
The orangutan was reportedly killed for entering an oil palm plantation. On Feb. 19, East Kutai Police arrested four Teluk Pandan men and a 13-year-old as suspects. The case was brought to the Sangatta District Court in late April.
On Tuesday, July 10, the court sentenced each of the four men to seven months in prison for the intentional killing of the orangutan. The court also ordered them to pay a fine of Rp 50 million (US$3,478) or serve an additional two months in prison. The teenage boy was released because he was a minor.
2. Tiger disemboweled and strung up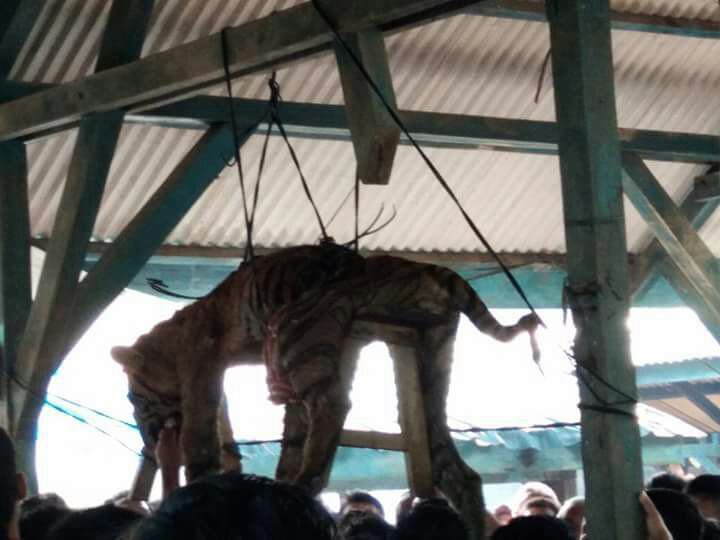 People look at a dead Sumatran tiger strung up on March 4 at the Hatupangan village hall in Mandailing Natal, North Sumatra. The local residents allegedly killed the endangered animal, even knowing its protected status, as they feared it was a.'siluman' (shapeshifter) (Twitter/Kementerian Lingkungan Hidup)
A male Sumatran tiger was killed with a spear on Sunday, March 4, in Hatupangan village of Batang Natal subdistrict, North Sumatra, as the local residents feared it was a siluman (shapeshifter). Its disemboweled body was hung from the ceiling of the village hall on Sunday morning.
Batang Natal head Lion Muslim Nasution said the villagers were aware of the animal's endangered status, but they had heard rumors that a siluman had been wandering around the village for more than a month.
North Sumatra Natural Resources Conservation Agency (BKSDA) head Hotmauli Sianturi said the agency had spoken to the villagers three days before the killing to try and prevent them from harming the critically endangered animal. "We spoke to [the villagers], even involving personnel from the national army [TNI], but they still wouldn't listen to us," she said.
The Sumatran tiger population currently stands at no more than 600, according to the Environment and Forestry Ministry's official estimate.
3. Rejected by zoo, crocodile becomes meat
Several residents of Ciputat in South Tangerang, Banten, reportedly killed a crocodile they found in a river near Jl. KH Dewantara and cut it up for its meat.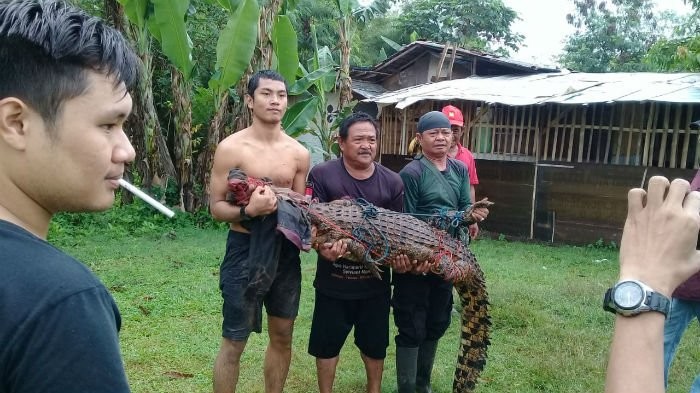 Residents of Ciputat in South Tangerang, Banten, display on June 8 a crocodile they caught in a nearby river and later killed for its meat. The crocodile's owner reportedly said that the pet had escaped its cage after plans to transfer it to an animal park had failed. (Via wartakota.tribunnews.com/Istimewa)
South Tangerang Police general crimes chief Adj. Comr. Alexander Yurikho said that on Thursday, June 28, a riverbank resident spotted a crocodile about 2 meters long swimming in the river. The alleged owner of the animal, local resident A. Karyana, claimed that the animal had fled his cage.
The resident then asked his neighbors to help catch the aquatic reptile, and then they killed it and distributed its meat among local residents.
Karyana said there had been plans to take the crocodile to either Taman Safari Indonesia in Bogor, West Java, or Ragunan Zoo in South Jakarta, but the management of the animal parks said they had no space.
4. 292 crocodiles slaughtered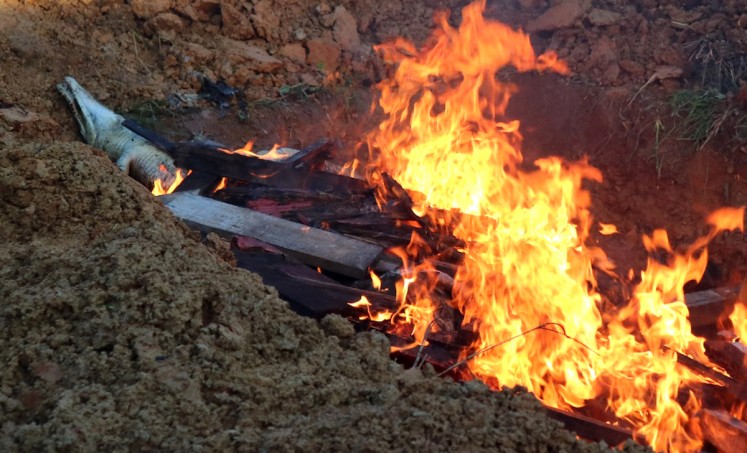 The bodies of nearly 300 slaughtered crocodiles are set on fire by local residents on July 16 before they were buried in Sorong, West Papua. The crocodiles at a local farm were reportedly slaughtered in retaliation for a local man who was allegedly killed by a crocodile. (Antara/Olha Mulalinda)
Local residents killed 292 crocodiles, from 2-meter adults to babies, on Saturday, July 14, at a crocodile farm in Sorong, West Papua. The mass killing was allegedly done in retaliation for Sugito, 31, who was reportedly killed by a crocodile.
After Sugito's funeral, the local residents went to the crocodile farm, owned by Sorong resident Albert Siahaan, to slaughter the reptiles.
''The residents used knives to slaughter the crocodiles," said Olga, a local resident. "The crocodiles were caught and dragged outside and stabbed to death. It was so horrible to see."
West Papua Natural Resources Conservation Agency head Basar Manullang said he disapproved of the incident. "The crocodile slaughter violated the law on destroying others' property," he said.
He added that the crocodile farm was legal, and had an official permit from the Environment and Forestry Ministry.
5. Sun bear killed, cooked as 'rendang'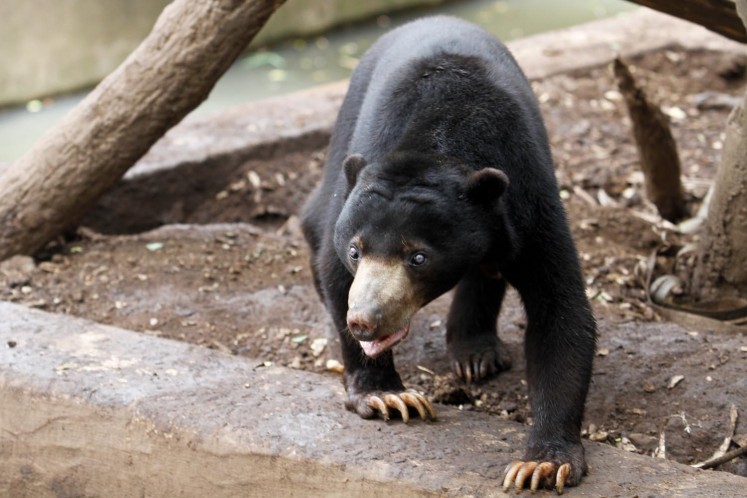 A sunbear in its enclosure at Bandung Zoo (JP/Arya Dipa)
Four residents of Tempuling district butchered four sun bears, which are protected under the 1990 law on natural resources and ecosystem conservation, and consumed the animals. The bears' meat was cooked in a soup, curry and rendang (stewed meat). The illegal act was videoed and uploaded to Facebook, and quickly went viral.
After seeting the video, the Indragiri Hilir Police in Riau arrested four farmers on early April.
During a preliminary investigation, the four suspects said they had initially set up traps on March 18 for wild boars in Mumpa village, Tempuling. On March 31, they instead found three sun bears in the traps.
The farmers said they either hit the bears in the head or speared them in the neck to kill them before skinning and butchering them. They then divided the bear meat among themselves for personal consumption.
The four also told investigators that they found another sun bear in a trap on a different day. At first, they took the sun bear alive to one of their houses, but then killed it with an air rifle.
The suspects are facing charges under the 1990 law, which carries a maximum punishment of five years' imprisonment and a Rp 100 million (US$7,270) fine.
6. 'Police' elephant killed for ivory
Bunta, a 27-year-old male elephant at the Serbajadi Conservation Response Unit (CRU) in Bunin village, Serbajadi district, East Aceh, was found dead on June 10. One of its tusks had been removed, and the elephant was believed to have died of intentional poisoning.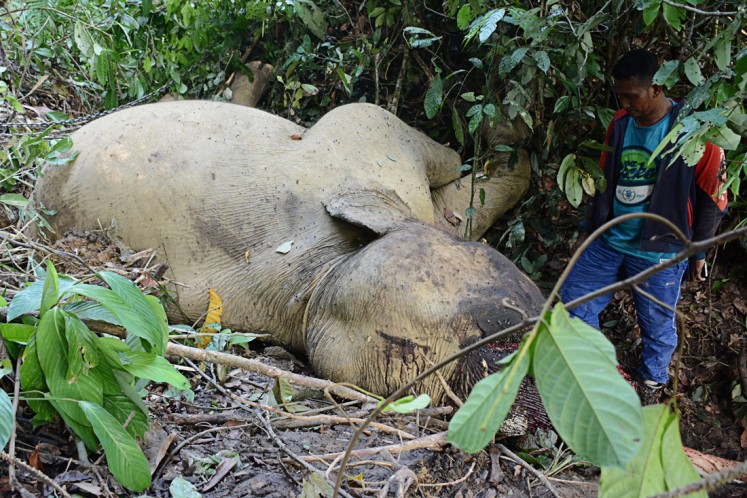 A villager looks at the body of Bunta, a tame male elephant of the Serbajadi Conservation Response Unit (CRU) that was killed on June 10 in Bunin village, Serbajadi district, East Aceh. Bunta was the lead "police" elephant of the environmental policing unit. (Antara/Al Mahdi)
The CRU is tasked with preventing human-wildlife conflicts, and Bunta was the main police elephant at the Serbajadi CRU, which Hollywood actor Leonardo Di Caprio visited in March 2016.
The Environment and Forestry Ministry suspected that the killing was planned by an organized crime group, Antara reported. "[Poaching] is a very serious problem because it is an organized cross-border crime," said the ministry's biodiversity conservation director, Indra Exploitasia, as quoted by Antara.
The police have arrested two suspects in the case, both residents of villages in the Serbajadi CRU's jurisdiction. The police also found and confiscated Bunta's missing tusk.
7. Orangutan shot and beheaded
A local resident found a dead orangutan on Jan. 15, floating in a river near Kalahien village in Buntok subdistrict, and mistook it for a human body, kompas.com reported.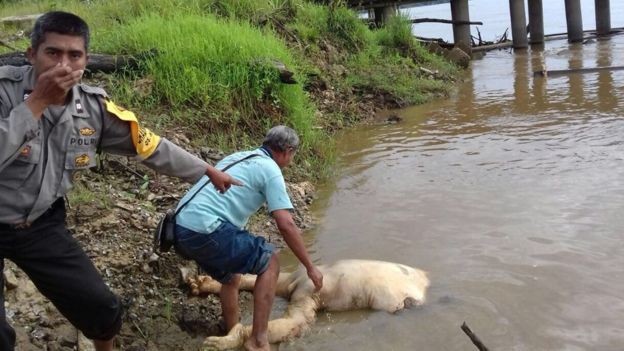 Local resident try to recover an orangutan's body on Jan. 15 from a river in Kalahien village in Buntok subdistrict. An autopsy found that the beheaded orangutang had been shot at least 17 times. (Courtesy of Centre for Orangutan Protection/-)
An autopsy indicated that humans were responsible for the death of the critically endangered animal, which had been shot with an air rifle at least 17 times. Its head had also been cut off with a sharp instrument.
The South Barito Police named two suspects on Jan. 30, who were tried at the Buntok District Court. In May, the court sentenced each man to six months in prison and a Rp 500,000 fines.
The Centre for Orangutan Protection (COP) stated that the convictions were too lenient to act as a deterrent and to mitigate the damage the perpetrators had done to conservation efforts for the critically endangered species, which is protected by law. Violators are punishable by up to five years in prison and a maximum fine of Rp 100 million. (evi)
Source: The Jakarta Post
Orangutan
Crocodile
Elephant
Animal
Conflict
---